Services:
Brand Identity, Positioning
Website:
cift-iut.business.site
CIFT designed all their courses to offer all the trending and practical topics to its students. It is a perfect combination of academic courses with a functional propose. So, we decided to focus on the functionality along with the academic facilities to promote the organization.  Students nowadays are bombarded with options, opportunities, and offers. So, we asked them to come up with courses that students can relate to and put into their day to day life. Hence, short and technical courses were introduced along with the BSc courses. We highlighted the certificate that was provided by University of Chittagong to add credibility to organization.
Logo
Logo is the cornerstone of any brand that not only includes name but also identifies an image that represents the vision and values that the company represents. Since CIFT offers creative programs we picked Flower as a highlighting element. As target customers of CIFT are mainly from Chittagong, we choose to represent the flora and fauna of Chittagong. Hence we added mountains and sea in the background.
Tagline & Typography
For the logo font, we choose a modern and edgy font to represent innovation in art and craft. Thus we choose "Crafting Future" as tagline to retain the consistency of the brand
Color scheme
We used the brightest colors such as yellow, orange, red as highlighting colors to celebrate life, art, and innovation. Blue background establishes the brand mark as an educational institution.
Pattern
In addition, we created the floral pattern as supporting graphic elements.
CIFT Being the first creative university college in Chittagong offers a 4-year BSC Hons in Fashion and Technology. We Suggested adding a few traditional and trending short courses to their product category to bring the essence of true educational institutions. As per suggestions, different diploma and short courses on photography, merchandising, spoken English, and music was added to their baggy.
Advertisement Placing and Executing
Outdoor Advertising
We also designed an outdoor advertising campaign for CIFT such as designing posters, assigning brand promoters to promote and distribute the print material.
Banner
Newspaper 
We also did newspaper advertising for CIFT in local Dailies. Following Promotional activities were done
Advertisement placing

Media Buying
Social Media Marketing
We designed the Facebook layout and post as a part of their Facebook Page Retention. We also conduct social media marketing as well to integrate the outdoor campaign with digital marketing.
Outdoor & Indoor Event Activation
We arranged some campus-based outdoor and indoor events targeting admission seekers.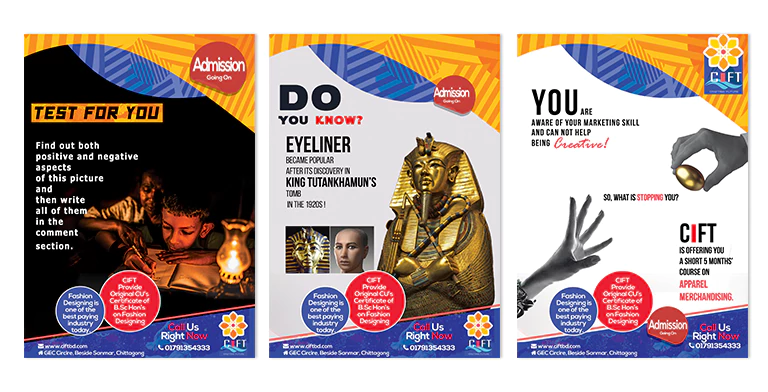 Some explainer video was created for infomercial.
Through the 5-step process of branding, we were able to create a strong brand presence for CIFT that emphasized its unique craftsmanship and dining experience, differentiating it from competitors and creating a strong connection with its target audience.